Looking for an eco-friendly Valentine's Day gift this year? Show some love with trees!
Take climate action together by giving the one you love a tree – a meaningful Valentine's gift that lasts a lifetime.
Sarran Forest, France
Choose a tree for someone you love
Looking for an eco-friendly gift that's good for the environment and symbolises just how much you care? Here's a selection of trees that are full of meaning.
3265
Arbre
19
20%
FR
https://bocdn.ecotree.green/essence/0001/04/f878815b9b9d7ae94a19642f4a2bf1c56b46b64d.jpeg
Douglas
Uneven-aged high forest
Ajoux Forest
7
https://ecotree.green/en/offers/forest/ajoux-forest
https://ecotree.green/en/offers/7-ardeche/ajoux-forest/douglas/3265
3149
Arbre
19
20%
FR
https://bocdn.ecotree.green/essence/0001/03/5a4b02c451eca6d9634141f1548976d4bac06cfa.jpeg
Larch
Uneven-aged high forest
Ajoux Forest
7
https://ecotree.green/en/offers/forest/ajoux-forest
https://ecotree.green/en/offers/7-ardeche/ajoux-forest/larch/3149
2947
PackArticle
58
20%
FR
https://bocdn.ecotree.green/pack/0001/03/4f16966f715eedede053132543ffd1a8b099a8f3.jpeg
Valentine Bundle
Bundle
varie_selon_essence
variable
https://ecotree.green/en/offres/pack/valentine-bundle
https://ecotree.green/en/offres/pack/valentine-bundle
Give trees as a gift
Why give trees?
You've probably already given her flowers to express your love. What if, this February 14, you told her with a bouquet of trees?
Trees absorb CO2
Trees store CO2 far into the future. They are vital to the green transition, fighting climate change and supporting biodiversity in local, natural habitats.
Trees grow with you
Many tree species live much longer than us humans. Your sustainable gift is the perfect, eco-friendly alternative that can help the planet today and decades from now.
Trees produce valuable materials
As trees grow, they increase in value. When their life cycle is over, they are sold as sustainable timber. That makes your gift a long-term, green investment.
valentinesday.testimonial_section.paragraph
What people say about their sustainable gifts
They gave trees to their loved ones... to their delight! You too can now join the large community of people who give this original gift: trees for Valentine's Day.
4.7
500 reviews

Mahtilde B.
Google Review – February 2022
"Free Valentine's Day pack containing two trees! The idea is great, the site is full of information, and it's a great way to [...]"
Martha R.
Google Review – February 2022
"Me in America, looking for a Valentines gift for my love who lives in France. [...] I have to thank them because the card arrived on time and he is excited to have a tree in the forest."
Gift cards: the best way to give trees
It's quite difficult to wrap a tree! Instead, you can give your Valentine their tree with one of our gift cards. You can even choose how you share it with them.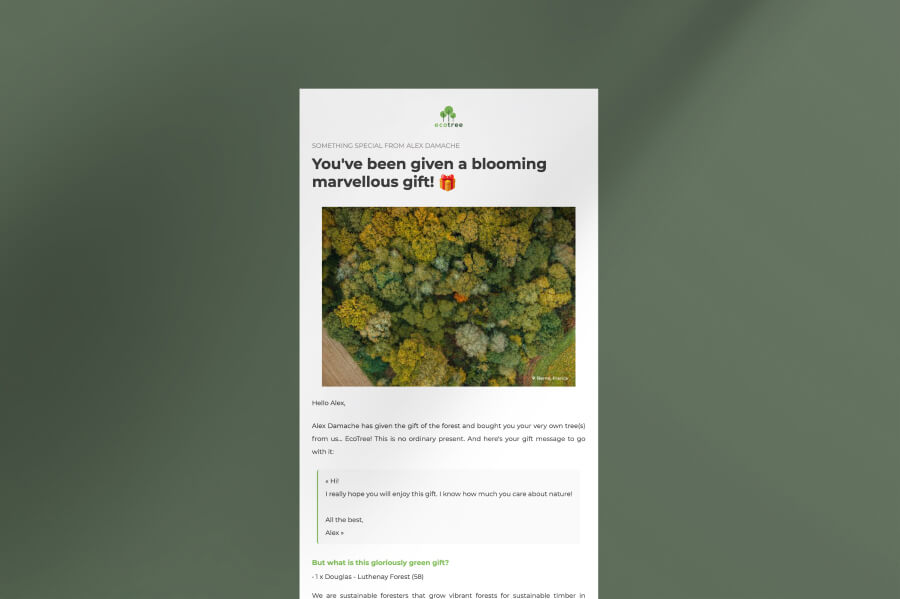 By email
Save on paper and emissions by sending a personal gift card by email.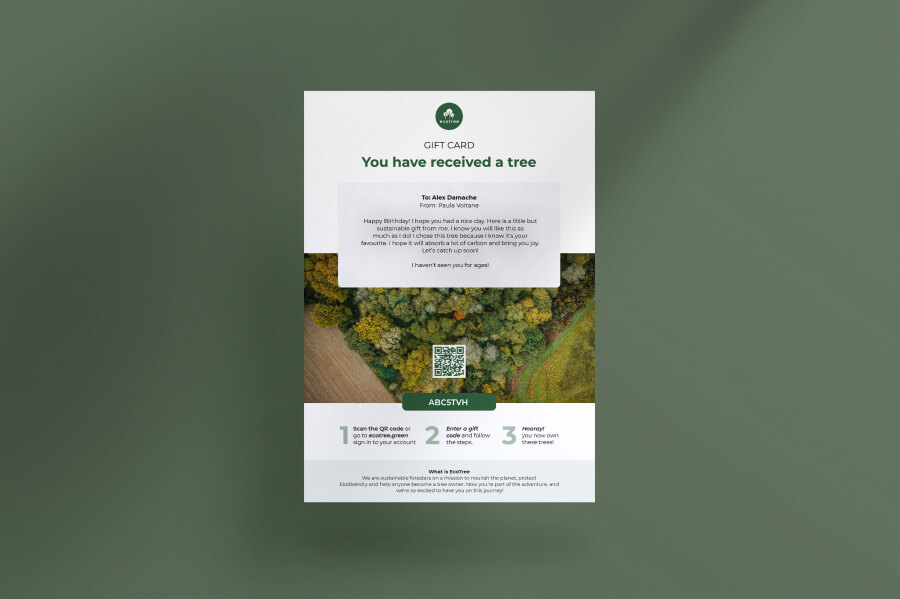 Printable gift card
Share your gift card in person by downloading and printing it out at home.
Common questions about gifting a tree for Valentine's Day
Why is a tree an original Valentine's Day gift?
Whether it's a Valentine's Day gift for women or a Valentine's Day gift for men, a tree is an idea that takes you off the beaten track. Of all the Valentine's Day gift ideas you can find on the internet, in shops or from friends, none will be as original, bucolic and lasting as a tree. What gift can compete with a tree for duration and beauty?
Where do the donated trees grow?
The trees you buy as an eco-friendly Valentine's Day gift grow in our forests in France and Denmark. We first plant them in local nurseries where they are cared for by our foresters who bring them to maturity to produce valuable lumber. We apply the principles of sustainable forest management in all our forests, which means we avoid clear cuts and prefer continuous cover silviculture. That helps us promote and protect vital biodiversity.
How can I see the tree that was given to me?
When you receive a tree as a gift for Valentine's Day, it is given to you with a dematerialised identity card, which you can find in your online account. You will find information on the age and species of your tree, but also on the cutting horizon (the date on which we estimate that it will be ripe for cutting), the amount of CO2 it will sequester during its life and the forest in which it grows. You can find the GPS coordinates of the forest on Google or on the forest page of our website. You can go there from April to October. Your tree does not bear your name or the name of the person to whom you have given it, because we favour its natural environment. But if you or the person you gave it to is the owner of the tree(s), it is not possible to know exactly which trees it is. At harvest time, the person to whom you gave the tree will receive a share of all the trees cut and sold in the same lot.
Why does EcoTree plant trees?
To ensure the renewal of forests, foresters plant trees. They look after them from planting to maturity, and when trees are cut down in a forest, others are planted in their place, unless they grow back by themselves. Foresters often favour natural regeneration, i.e. trees that have grown without human help. However, planting may be necessary in several cases: either because natural regeneration does not exist or because climatic conditions are not good. Sometimes trees are also planted to gently change the diversity of forest species in order to adapt them to climatic changes.
Why is the tree a romantic gift for Valentine's Day?
You've given a bunch of flowers before, but we think a bunch of trees is much more romantic and meaningful. While flowers quickly wither and die, trees grow for many years in EcoTree forests. They are symbolic, meaningful and you can even take the person you love to the forest where your eco-friendly Valentine's Day gift grows in person. Your trees will flourish in time, just like your love for each other.
Will they really want a tree for Valentine's Day?
Hey – who doesn't love trees? These natural, living organisms are beautiful and forests are often referred to as the Earth's lungs. Without them, life would not be possible, as they provide our oxygen and make our soils rich with the nutrients needed for cultivation. And of course, trees form incredible shapes and colours that constantly change throughout the year, which means our forests are home to a large number of fauna. While climate change is already affecting our way of life, more and more people understand the essential role trees play in a more sustainable future for the planet. When you give a tree as a gift, you can't go wrong. Everyone wants to enjoy a meaningful, green Valentine's Day gift that has a genuinely positive impact on climate change.
Why give an eco-friendly Valentine's Day gift?
Every year, more and more people are making the move from traditional Valentine's Day gifts to eco-friendly alternatives. And sustainable, plastic-free gifts for the one you love can still be packed with beauty and meaning.
From speaking to EcoTree customers, we know that climate change and living in a way that is good for the environment are top priorities for people. And that desire to buy eco-friendly products also applies when it comes to Valentine's Day. People love unique, green gifts that help the planet - like trees!
Of course, eco-friendly Valentine's Day gifts are sustainable by nature - that's the whole point of giving a gift that benefits the environment. Because every year, those traditional presents, often made of single-use plastics, end up being exchanged, returned, resold or thrown right in the bin. Love can be a tricky business, right?!
But when you give someone special a tree for Valentine's Day, you know it will still be there for many years into the future, maybe even decades. And that makes trees the ideal alternative Valentine's Day present. They are good for the environment and a symbol of love, strength, life and lasting relationships.

From the Douglas fir to the Sessile Oak, every species of tree is entirely unique, just like the loving relationship you have with your partner! And when you give and own trees in EcoTree forests, you help them become more resilient, within vibrant, thriving ecosystems.
Did you know that forests are natural carbon stores? In the fight against climate change, that means they are a fantastic way to capture CO2 from the Earth's atmosphere.
Then there is the issue of sustainability. Because a green and eco-friendly Valentine's Day gift is truly a sustainable gift. There are no single-use plastics - of course - but there is no waste created at all. You simply buy your green gift online and can email a voucher to your gift recipient.

Trees also lead to a far better use of natural resources. As a natural, renewable material, wood can be turned into timber and used instead of much more polluting alternatives, including plastics.
Here at EcoTree, our commitment to the environment and principles is what we base our forestry model on. The green transition is coming and the timber from trees is a valuable, strong and a vital part of all our futures. The planet is about to become more sustainable and reliant on renewable materials, which means forests are so important as the world adapts to a changing climate.
Every year, a tree absorbs approximately 25 kg of CO2, which means being a tree owner will have a significant impact in terms of offsetting your carbon footprint.

It also means that by giving a tree as a Valentine's Day gift this year, you will tell the world about vital forests, carbon capture, climate change, biodiversity and many other topics related to our planet. Of course, if you give a tree as a Valentine's Day gift, you might get an eco-friendly, alternative gift back from your loved one next year too.
At the end of the day, trees are an eco-friendly Valentine's Day gift that benefits our planet in lots of ways. Trees in EcoTree forests have a meaningful impact and you can give them as a gift for many occasions.