1067
Arbre
18
20%
https://d32qe1r3a676y7.cloudfront.net/eyJidWNrZXQiOiJibG9nLWVjb3RyZWUiLCJrZXkiOiAiYXJ0aWNsZS8wMDAxLzAyL2Y1ZWU2OTlkMTM2YWNiNDllZTgxNzQzNTBjZTZhZTNlYjNlMmMyZDcuanBlZyIsImVkaXRzIjp7InJlc2l6ZSI6eyJ3aWR0aCI6IDgxMCwiaGVpZ2h0Ijo0NTAsImZpdCI6ImNvdmVyIn19fQ==
Sessile Oak
Age: 25 to 30 years old
Préaux Forest
53
https://ecotree.green/en/offers/forest/preaux-forest
https://ecotree.green/en/offers/53-mayenne/preaux-forest/sessile-oak/1067
The sessile oak (or Quercus petraea) is a tree of the fagaceum family which also includes beeches. It is also called the Cornish oak or the durmast oak. It is the official tree of Ireland and the unofficial tree of Scotland and Wales. It is present throughout most of western Europe.
The why
Why does EcoTree plant Sessile Oaks?
The sessile oak hosts many animal species, which is why we plant it. Moreover, we cultivate it for the ease with which it grows in sandy soils and at higher altitudes (up to 1600 meters)
Description
Sessile Oak - Botanical description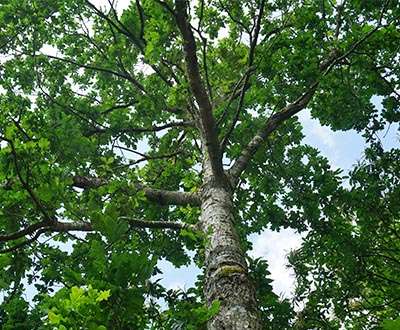 The sessile oak is can live from 500 to 1 000 years. It can reach up to 45 m high for a trunk diameter of 2 meters. Its bark has vertical ridges, the grooves are not too deep but are continuous, which allows the rainwater to be brought to the ground. The trees' crown is ample, but quite clear and make of simpler lines than its cousin, the pedunculate oak. The leaves have petioles and detach easily from one another. They have 9 to 12 round shallow lobes. The species is monoic: its male flowers are in long catkins at the base of the leaf blades, whereas the female flowers are minute and in clumps of 2 or 3. Its fruit are acorns that are laid directly on the branches, without any stalk supporting the flower. A stemless flower, or one with a very small stem, is said to be sessile.
Planting & maintenance
Sessile Oak - Species requirements
The sessile oak prefers oceanic humid climates, and fine sandy lime soils, especially if they are slightly acidic. It needs a regular water supply but can stand short spells of drought. However, it does not do well under deep frosts, especially later in the year, as they tend to destroy its flowers.
The Cornish oak is planted in autumn, usually in November and when there is no frost forecast, in a ditch 3 to 4 times larger than the clump of roots and as deep; The first year, the tree needs to be regularly watered, especially if it is already tall.
Wood
The Sessile Oak's wood
The sessile oak's wood is of great quality, and very solid but is easy to work. It has always been used for noble purposes, for example to produce ships, or to create beautiful cabinet work.
Symbol
The Sessile Oak's symbolism
The oak has always symbolized strength and power but also generosity. It has shared our life since the dawn of ages and has naturally come to signify longevity, making it the perfect sustainable birthday gift! For a special birthday, the oak will bear your congratulations and best wishes, a unique and original gift. The tree will be a living memory of the happy occasion!

Offer a tree in a forest for your loved one's birthdays, give them a sessile oak!