Want to send an eco-friendly present this Christmas? Here's a gift idea: trees!
Trees are a meaningful, sustainable Christmas gift and a plastic-free, eco-friendly alternative that will be around for years.
Sarran Forest, France
Choose a tree to give as a gift
Are you one of those people who care about the environment and who prefer eco-friendly gifts to disposable ones? Here is a selection of trees that we suggest.
3265
Arbre
19
20%
FR
https://bocdn.ecotree.green/essence/0001/04/f878815b9b9d7ae94a19642f4a2bf1c56b46b64d.jpeg
Douglas
Uneven-aged high forest
Ajoux Forest
7
https://ecotree.green/en/offers/forest/ajoux-forest
https://ecotree.green/en/offers/7-ardeche/ajoux-forest/douglas/3265
3149
Arbre
19
20%
FR
https://bocdn.ecotree.green/essence/0001/03/5a4b02c451eca6d9634141f1548976d4bac06cfa.jpeg
Larch
Uneven-aged high forest
Ajoux Forest
7
https://ecotree.green/en/offers/forest/ajoux-forest
https://ecotree.green/en/offers/7-ardeche/ajoux-forest/larch/3149
2936
PackArticle
54
20%
FR
https://bocdn.ecotree.green/pack/0001/03/89bbbe59a6cdd37506f10f8b9b4ddc4c95223798.jpeg
Christmas Bundle
Bundle
varie_selon_essence
variable
https://ecotree.green/en/offres/pack/christmas-bundle
https://ecotree.green/en/offres/pack/christmas-bundle
Give trees as a gift
Why give trees?
Trees are a fantastic gift idea because they are environmentally friendly, sustainably sourced and, unlike most presents, free from single-use plastics.
Trees absorb CO2
Trees store CO2 far into the future. They are vital to the green transition, fighting climate change and supporting biodiversity in local, natural habitats.
Trees grow with you
Many tree species live much longer than us humans. Your sustainable gift is the perfect, eco-friendly alternative that can help the planet today and decades from now.
Trees produce valuable materials
As trees grow, they increase in value. When their life cycle is over, they are sold as sustainable timber. That makes your gift a long-term, green investment.
christmas.testimonials.paragraph
What people say about their sustainable gifts
Know someone who might love an eco-friendly Christmas gift this year? Our trees will bring your friends and family lots of joy, year after year. You too can now join the large community of people who have received trees as gifts and are now giving them as gifts.
4.7
500 reviews


Fabien S.
Google Opinion - December 2021
"Very nice initiative [...], I bought several trees to give as Christmas presents to children under 10 [...]."

Cécile M.
Google Opinion - December 2021
"A great idea for a responsible Christmas gift! We can't wait to see our tree :)"
Gift cards: the best way to give trees
Trees don't exactly work with wrapping paper! Instead, you can give friends and family their trees with one of our gift cards. You can even choose how you share it with them.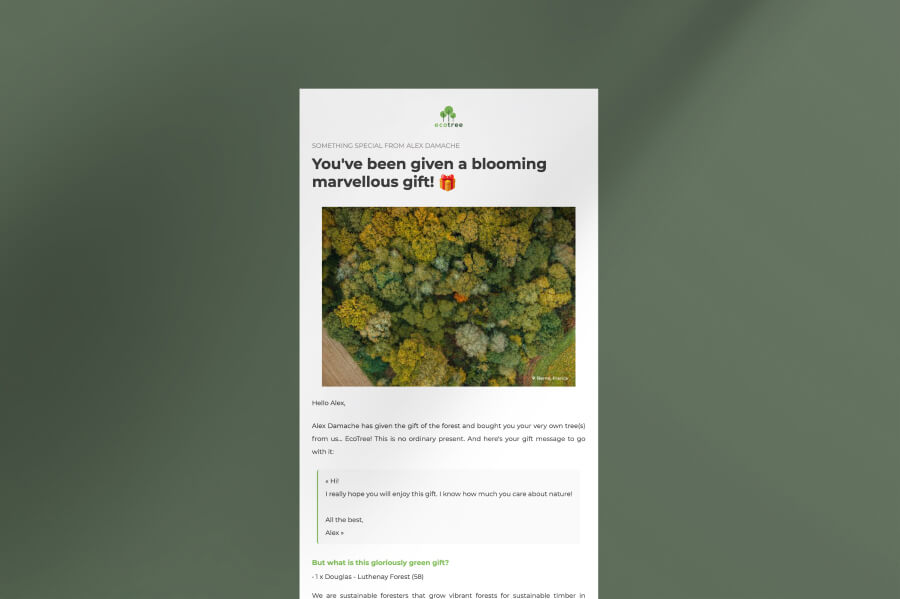 By email
Save on paper and emissions by sending a personal gift card by email.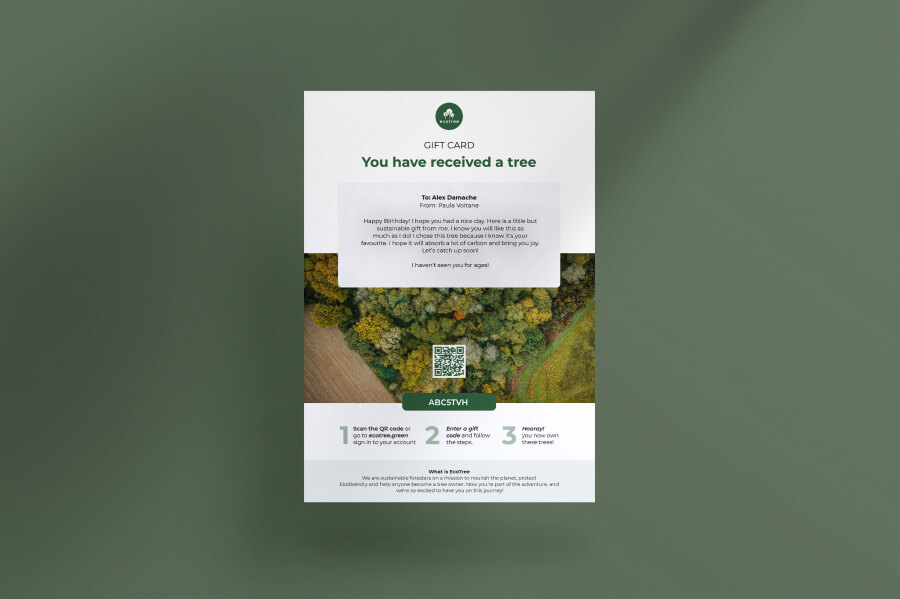 Printable gift card
Share your gift card in person by downloading and printing it out at home.
We can answer your questions!
Still wondering how it works when you give a tree as a Christmas present through EcoTree? Below you will find answers to some common questions.
What makes trees a sustainable Christmas gift?
A sustainable Christmas gift benefits our planet and is a great way to take real climate action. That's why trees are the very best green gift this holiday season!

As trees grow in our forests, they absorb and store harmful CO2 from the atmosphere, one of the major contributors to global warming. The trees also play an important role when it comes to protecting and enriching the forest's local biodiversity.

When the trees that EcoTree plants eventually and naturally reach the end of their life cycle, we harvest the wood and use it to produce timber. That means not only does your environmentally-friendly Christmas gift last for many years, nothing goes to waste.
Where do EcoTree trees grow?
EcoTree is a sustainable forestry company, which means we own and manage real forests that you and your gift recipient can visit in person – whenever you want! Each tree comes with GPS coordinates that show where in one of our forests the tree grows. We have forests in Denmark and France and they are managed by our team of local foresters. We plant trees of different species in the same forest, which improves biodiversity.
Where can I find the tree I have been sent?
When you get a tree as a Christmas present, you can find all sorts of information about it in your EcoTree account, including:
– its age and species
– when we expect it to be felled
– which forest it grows in
– how much CO2 it has absorbed
Why is it important to plant trees?
To make sure that the forests continue to grow and thrive many years into the future, it is necessary to plant new trees. By planting trees using sustainable forestry methods, we can renew the world's forests and have a positive effect on the climate and biodiversity.
How do trees symbolise Christmas?
Trees are living organisms that represent life. The Christmas tree is a relatively modern tradition, but there are many stories that demonstrate the significance of trees going all the way back to Roman and Celtic times. It is no coincidence that Christmas falls around the winter solstice – the shortest day of the year, when our thoughts begin to turn towards spring again. Symbolic of growth and one of our best-known markers of the changing seasons, trees remind us that the days are about to get longer once more and the forest is waking up.
Why are trees a meaningful gift?
"Who doesn't love trees?" That's what Erwan Le Méné, CEO and co-founder of EcoTree, says when asked why he founded the company. Trees are majestic and beautiful, but they are also vital to the environment and our planet in a number of ways. Without them, life would not be possible. They absorb carbon dioxide, produce oxygen and help make our soil fertile so that we can grow crops. They are the foundation of natural habitats all over the world, home to much animal life and a source of vital resources.
Give trees as a gift
Why give an eco-friendly Christmas gift?
More and more people realise how important it is to switch to environmentally-friendly, alternative gifts when it comes to Christmas presents! But a sustainable, plastic-free Christmas gift can still be just as beautiful and meaningful when you choose to give a tree.
Year after year, Christmas presents are exchanged, returned, resold or even worse – thrown in the bin right. Why not put an end to this sad tradition and instead choose a Christmas gift that could last for decades? Trees are the ideal alternative Christmas gift. They are good for the environment and symbolise life, growth, strength and permanence.

From the Douglas fir to the Sessile Oak, every tree species is unique and when you give and own trees in our forests, you help them become more resilient, with vibrant, thriving ecosystems. Forests are natural carbon stores, which makes them one of the best ways to capture CO2 from the atmosphere and help combat climate change.

Sustainable forestry = green Christmas gift Trees from EcoTree are a truly sustainable and green Christmas gift and not just because they create zero waste. They also contribute to a better use of natural resources, because wood is a renewable material that can replace more polluting alternatives, including single-use plastics.

These are the principles on which we base our forestry model. The timber from trees is a valuable and strong material that will play an important role in the green transition. As the world becomes more sustainable and reliant on renewable materials, forests are an essential part of that more environmentally-friendly future.

A sustainable Christmas gift with many benefits A tree is a gift with a beautiful message. It is climate-friendly and makes a tangible difference to the environment in lots of ways.

A tree absorbs approximately 25 kg of CO2 every year, which can make a big difference in terms of offsetting your carbon footprint as a tree owner. By giving a tree through EcoTree this Christmas, you also help to spread awareness about the importance of forests, carbon capture, climate change, biodiversity and many other topics. You never know – maybe the person you give a tree as a Christmas present this year will choose to give a tree to their loved ones next Christmas.

Giving an ecological and sustainable Christmas gift always makes the recipient happy! And what's more, it's a great way to spread the word. It is a gift that is as pleasant to give as to receive. So who knows, maybe one day you'll leave a note on our Google page to tell us how happy you are to have received a tree as a gift and to have given one as a present! And alongside the comments here, yours will find a place. So, what do you think about adding a tree to your list of gifts to Father Christmas, to be discovered on 25 December under the tree? It's a simple and inexpensive Christmas gift that your loved ones won't be able to refuse. In addition to being ecological, it's a smart gift, in short!

When it comes down to it, trees are an eco-friendly Christmas gift that has a positive impact on the planet in multiple ways. Trees in EcoTree forests make a real difference, and can be given as a gift for many occasions.