Description
Larch - Description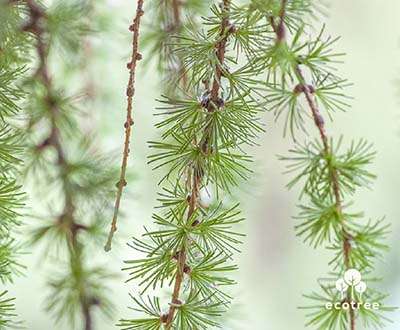 Larix decidua is a distinct variety from the Larix species, and the most common in our regions. It owes its vernacular name of European Larch or Common Larch to the word "mel" meaning honey in the language of the Dauphinois, where it particularly thrives. So much so that it is also commonly called Pin de Briançon. Its natural distribution area in France is located mainly in Briançonnais, Queyras, Ubaye, Dévoluy and Mercantour.

This conifer, a member of the Pinaceae family, like cedar , spruce , pine or the fir , is an exception among its kind. It loses its needles in autumn, which turn yellow, red and brown before dropping. It is the only European conifer to have this particularity.

It is by the fall of its needles that it favors the formation of a humus favorable to the reception of the seeds of other conifers.

In adulthood, it reaches a height of 30 to 40 meters. Its bark is greyish, cracked, and very thick on old subjects.

The needles are somewhat leathery, inserted in a rosette on the branches short or separately on the twigs long . They are concentrated in tufts composed of 35 to 40 needles along the twigs.

species , it is at the end of spring that the kittens appear. Males can be recognized by their yellow color. They are small, numerous and hang below the branches. They distribute their pollen with the wind and the insects that will pollinate the female kittens. Fewer in number, these are a little larger, bright red in color, and facing the sky.

The cones are ovoid, brown, and measure 3 to 4 cm. Their fine, pointed scales protect the brown, shiny, winged seeds, which they release at the end of summer. They remain attached to the branches for a long time, and it is not uncommon to observe cones from the current year and the previous year at the same time. Squirrels, woodpeckers or crossbills favor their dispersal.

Slow growing tree, it takes 20 to 30 years to reach a height of 3 to 4 meters. Its port is conical, narrow and its drooping branches, like those of spruce.

It can live 600 years.