Description
Douglas - Description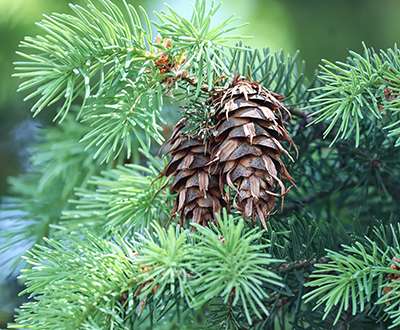 The Douglas fir (Pseudotsuga menziesii) is a giant tree, it can grow up to 100 meters tall in its native soil, in North America, and can reach up to 50 meters in Europe. This hardy softwood tree has persistent foliage with linear leaves that are 2 or 3 cm long, soft to the touch with two very specific white stripes on the back; they have a lemongrass smell when crushed.
Its rapid growth sees its branches spread out and its smooth grey bark thickens. It can live from 300 to 500 years!
With its height and a very straight trunk, it is used for its natural durability which makes it rot-resistant. This quality is precious in a time when ecological preoccupations have come to the forefront. It is monoecious, i.e. the plant has both male and female reproductive organs on the same plant. The male flowers are yellow and globulous, and the female flowers are longer, with green and purple tones.