Austrian black pine: how to recognize it, what is its value?
This species is resistant to cold, drought, wind and air pollution.
Austrian black pine
Native to Austria and the Balkans, the subspecies pinus nigra nigricans austriaca has been introduced in a large part of Europe.
Why does EcoTree plant Austrian black pines?
This resistant resinous species can produce wood with good mechanical properties. It is used in particular for timber and is a species that tolerates different soils and lends itself very well to reforestation as part of the restoration of mountainous terrain. It is also an alternative to the spruces that had been widely planted in eastern France and which fell victim to the bark beetle epidemic. It is one of the species with which we will reforest the Montplonne forest in France.
Austrian black pine - Overview
The Austrian black pine pinus nigra subsp. nigricans var. austriaca is a resinous tree that can reach a height of 25 to 35 metres, with evergreen foliage.
It has a dense, obtuse crown and a straight trunk, and is said to be macrophanerophytic, as its stem exceeds eight metres in height.
It has weak growth and poor natural pruning, its lateral branches are strong. Its bark is deeply fissured and blackish. The current year's twigs are light brown and not very shiny, and there is a very small or non-existent needle-free zone at the base. The buds of its branches are oblong, pointed and resinous. Its needles are medium in length (8-14 cm); they are rigid, prickly, straight or slightly curved, dark green in colour and last for 4 or 5 years. They are planted almost perpendicular to the branch to its base. The cone of the Austrian pine is ovoid, conical, 5 to 8 cm long, sessile and perpendicular to the branch.
It is a monoecious tree, i.e. its unisexual male and female flowers are borne on the same plant. It flowers in May and is pollinated and dispersed by the wind. The cones take two years to mature and fall off the following year.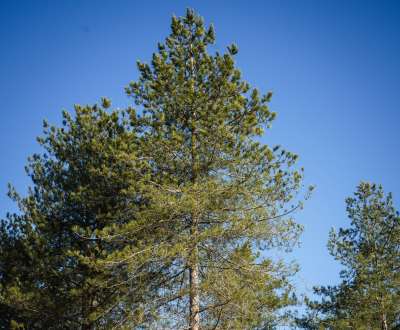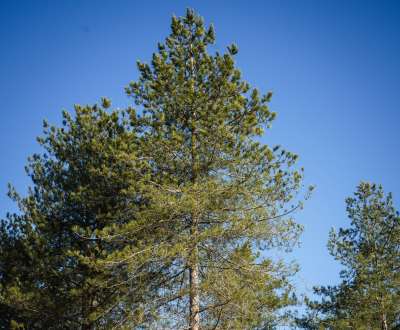 Austrian Black Pine is a so-called nomadic post-pioneer species, which means that it is photophilic (it needs a lot of light) and occurs, in plant successions, after pioneer species. Being nomadic, it can, under certain conditions, play a role as a pioneer species. However, the seedlings of this light species can withstand light shade. The Austrian black pine is a tree that is resistant to cold, drought (air and soil), wind and air pollution. It tolerates calcareous (and/or magnesian), marly, dry soils and compact clays. It has a strong root system, even on superficial soils.
It is well suited to pubescent oak forests and thermophilic beech forests. It can be introduced into the holm oak zone, where it is nevertheless susceptible to attack by the processionary caterpillar.
It is commonly used for the reforestation of calcareous wastelands in the north-east of the country at the hill level. As a pioneer species, Austrian black pines have been used extensively for the restoration of mountainous terrain, especially in the Southern Alps, in the downy oak, Scots pine and beech series.
Austrian pine produces a resinous wood that can be used for products with good mechanical properties. It can be used for lumber and sawing. It is a good wood for pulp production.
Symbolism of the Austrian pine
The name of the pine comes from the Celtic pen, which means the head, the top, the point. This tree symbolises the awakening, the consciousness of being. In the Far East, the pine is also a symbol of immortality.